Living in Greater L.A., we admit that sometimes we can be a bit jaded about "The Industry". At least that's the image we portray, but deep down, the magic of Hollywood...well we still get a little star struck, (but that's our secret).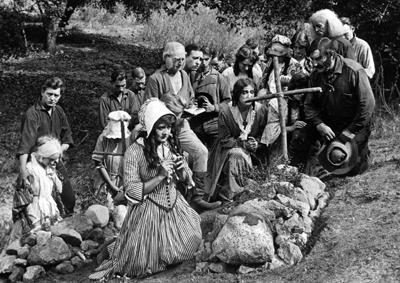 "The Argonauts of California-1849" was filmed in Gold Hills
and is the oldest surviving movie filmed in Monrovia.
Source: UCLA Film & Television Archive
If you've been in Monrovia for a length of time, you've probably seen a filming production or two around town. Monrovia is a favorite of location scouts.
It has that Anytown, USA look and feel. Did you know that's one of the reasons there are no palm trees in Old Town?
In fact, Monrovia has a long history with the film industry stretching back 100 years to a time when filmmaking
—
or photoplays, as they were known—was in its infancy.
Then, as now, the film industry was full of glamour, unending promotion and drama, both on and off screen. In 1915, the Monrovia Feature Film Company brought a year of excitement to our town and made local headlines daily, often pushing news of the World War raging in Europe off of the front page.
Despite local support for the film operations, the lifetime of the Monrovia Feature Film Company was brief—in reality, it operated for less than a year and produced two full length silent films—only one of which has survived. Though Monrovia never overtook Hollywood as a film capital, it did continue to be a filming destination and welcomed a second studio, Victor Adamson Productions, in the late 1920's. It too lasted only briefly before lawsuits and financial scandal caused its collapse. Though it produced a large number of short movies, only a few have survived.
So you're probably thinking, "There they go again!" But stick with us. There's method behind the madness, beside some cool Monrovia trivia.
You may have heard that the City recently commissioned an art installation to commemorate Monrovia's place in the film making world.
Concept for "Action!"
The piece, named "Action!" was created by sculptor (and actor) Daniel Stern. The sculpture, or more appropriately sculptures, plural, will have a prominent location in the 400 Block of South Myrtle Avenue in Old Town Monrovia (directly adjacent to the Krikorian). It's scheduled to be installed Wednesday afternoon (August 17) and the dedication ceremony will be one of the events happening on Monrovia Zip Day (9.10.16).
To help celebrate our new artwork and Monrovia's long connection to the motion picture industry, we'll be running a serial over the next few weeks that chronicles the manipulations and machinations of origins of Monrovia's fledgling film industry. Guest blogger Penny has done meticulous research stitching this largely unknown story together. Our loyal readers know that we love movies and we love history, so this double feature is making us giddy.
While there might not be damsels in distress, there are plenty of heroes and villains, often interchangeable, that prove the old adage that some things never change. We'll even throw in a cliffhanger or two.
Stay tuned, Monrovia and get ready for your close up!